If you have been affected by the current pandemic, please let us know.  We want to help in any way we can.  We have a deacon's fund that can meet short-term needs and a community of generous people that stand ready to serve.    This website can also be a helpful resource for people looking for financial assistance: https://findhelp.org/ 
There are many ways you can help others during this time including checking in on your neighbors, family, and friends.  Here are some other practical suggestions:
Donate to a Food Pantry
The Marblehead Food Pantry serves residents of Marblehead.  We typically have a donation box to collect food for them but during the pandemic they are only receiving monetary gifts or gift cards.   You can mail or drop these off at 80 Atlantic Ave., Marblehead or contact Amy Leverone (agl924@aol.com) and she'll arrange to deliver it for you.
Lifebridge serves people in Salem, Beverly, and Gloucester.  You can donate directly on their website and also find a list of material needs that you can drop off at their facility in Salem (56 Margin St).
Donate Masks
Nurses are in desperate need of N-95 masks mostly, but will take anything else they can find. If anyone has extra masks for their business or home projects, there is a collection behind the SPUR building at 6 Anderson St. or on the porch of 12 Churchill Rd, Marblehead.
It is also possible to sew masks that can be donated.  This video gives instructions on how to make them.  As mentioned in the video the mask has to be two colored, one color so you can differentiate from the side closest to their mouth from the side that is outside.  A combination of these ideas fused together might produce an innovative approach to handle the shortage of N95 masks.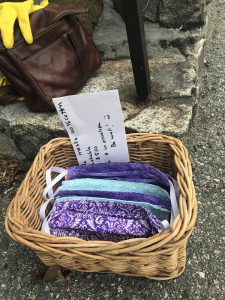 If  you would like to purchase a mask, an enterprising nurse made these colorful masks of washable cotton for $5. They are in a basket outside her home at 98 Front Street, a block and a half from the town wharf.  Pam Derringer (sailorpam@yahoo.com) is happy to help you get one if you would like.