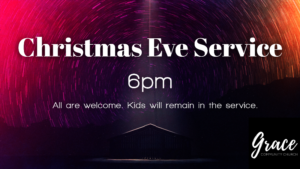 Our Christmas eve service will be family friendly and include carols, readings, a message, and candles.
Covid Safety Reminders:
Please take whatever measures you feel are appropriate to protect yourself and your family. That may include wearing a mask in our gatherings, maintaining personal distance, or watching the service in the fellowship hall where there are less people and socially-distanced seating. Please stay home and watch our service online if you have any symptoms, aren't feeling well, or recently have been exposed to Covid-19.