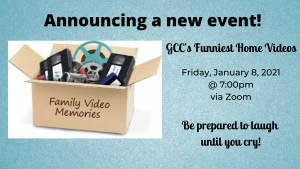 Save the date Friday, February 5th @ 7:00pm.
Zoom link. Meeting ID: 814 3477 0784  Passcode: LOL
Dig out some funny home videos or start creating some new videos for GCC's first Funniest Home Videos event! Maybe you'll have some funny things happen over Christmas or New Year's!
Videos are due Wednesday, January 6th, please submit your videos via email to Sue McNamara.