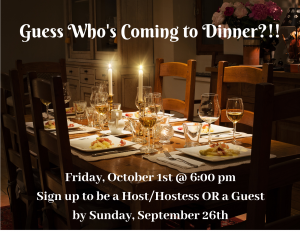 Sign up by Sunday, September 26th to be a mystery Host/Hostess OR
to be a mystery Guest for dinner at a GCC member's house on Friday, October 1st @ 6:00pm. 
Hosts will indicate how many guests they can accommodate in their home, with a maximum of 8 total people at the dinner.
Guests will list how many adults and if any children will attend.
Guests also will list any food allergies or restrictions.
Sue will match up people who may not know each other very well and will email the Hosts and the Guests with further instructions on Sunday afternoon, September 26th.