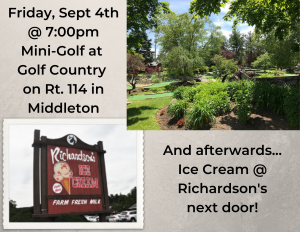 Please join us on Friday, September 4th, to play mini-golf at Golf Country on Route 114 (160 South Main Street) in Middleton. The cost of a round of mini-golf is:
$5 for children 5 years and under
$7 for children 6-11 years old
$9 for children 12+ and adults
For COVID-safety reasons, let's meet there at 7:00pm, rather than carpool. We can play in groups of five people.
Afterwards, we'll walk next door for some ice cream from the local favorite Richardson's farm, and the cost depends on whatever you order!