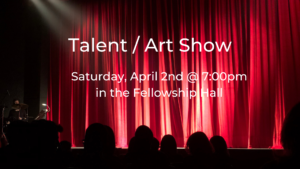 In November 2020, we had a virtual Talent / Art show, but now we can have an in-person Talent / Art show on Saturday, April 2nd @ 7:00pm in the Fellowship Hall, Everyone (adults and children) are encouraged to show us their God-given talents, which can be serious or funny. This promises to be a very fun event to get to know each other in a different way!
If you have a talent that is active, you may demonstrate it live, OR you may send a video of your talent act to Sue McNamara, and we will play it for you during the show.
If you have a talent that is a product, you may bring 2-3 pieces of your art. We may display them in the room, or you may share them during the show.
So that we can prepare for the show, please sign up on the sheet on the back table or contact 
Sue McNamara
by Sunday, March 27th.